With the current COVID19 situation ALL bowls in Somerset are cancelled until further notice - this, of course, includes the planned Somerset Bowls county wide Open Day which was planned for May 2nd and which Prattens was going to play a part and the game against Somerset Patrons on June 5th as well as the trip to Weymouthon the 5th July.
Prattens Bowls Club @ Clarrie Dunbar
On Saturday 29th February Prattens Bowls Club leapt over to Clarrie Dunbar Indoor Bowls to play a game against our near neighbours Norwest. Both teams included a number of players who play indoors in the winter (some more regularly than others) and some who do not normally play indoors including some who had never played indoors. The game was played in a good spirit on all four rinks and was followed by a good meal supplied by Clarrie Dunbar.
For much of the game the overall result was in doubt and when the final ends had been played the teams had won on two rinks each. That, however, was where the close result ended as the two winning Norwest rinks won by only two shots each while the winning margins for the Prattens rinks were eight shots and seventeen shots giving Prattens a victory by ninety shots to sixty-nine.
So congratulations go to Prattens and their Captain of the Day Liz Durnford (even if she did skip a losing rink – but then so did the Norwest Captain).
Prattens members go to Bowls Social Media Workshop
Four Members of Prattens Bowls Club today attended the Somerset Bowling Association Social Media Workshop today at Ilminster Bowls and Tennis Club. The session was run by Matt Hamilton who, as well as running the Web Site and Social Media accounts for Ilminster, is the Bowls England Marketing Group Consultant. Those attending were Barrie and Pauline Dando, Rich Brimble and Graeme Smith. The session was very interesting and thought provoking and will, I am sure, lead to further discussion within the club. There were representatives there from almost half the clubs in Somerset but for Prattens to have four people in attendance was very impressive.
Prattens Bowls Club – Pub Olympics
On Friday Evening there was much ado about plenty when many of Prattens Bowls Club members took part in a Pub Olympics at the bowls clubhouse. This was organised by Richard and Lin Brimble with food being supplied by Lin and friends. Once again, thanks to all for the hard work involved. The Olympics consisted of two rounds of games which were electronic darts (none of those nasty metal pointed things), table skittles, ball-in-cup (similar principle to the game of beer pong but without all the drinking), shove ha'penny and shut-the-box which I (for one) had never seen before but proved to be great fun. The 5 teams (and their captains) were selected by drawing names out of a bag so all was, or at least appeared to be, above board. At the end of the evening there was a somewhat convoluted period of sorting out the scores before the team which had named themselves as Premier 1 were declared the winners and awarded their prizes. This team consisted of Chris Love, Malcolm Moon, Hilary Gilbert and Margaret Harvey. As everyone present had thoroughly enjoyed themselves we were all winners really and the club made a profit of £112 on the night.
Prattens Bowls Club at Clarrie Dunbar
On December 7th 2019 Prattens sent four rinks to Clarrie Dunbar to take on a team representing the hosts. The game proved to be very closely contested with each team winning on one rink (well done to John Price and his rink), drew on two rinks and lost on one rink. The overall lead kept changing throughout the game and going into the final ends the score was tied but when the game was finished Prattens had lost by 4 shots. Following the game both teams (and a few spectators) sat down to the usual excellent meal.
2019 Trophy Winners - as presented at the Annual Dinner held at the Jolliffe, Kilmersdon October 11th 2019
CONGRATULATIONS TO YOU ALL This year no one managed to hide!! (apart from those who could not make it to the dinner).
An especial well done to Sue Smart who was declared Clubperson of the year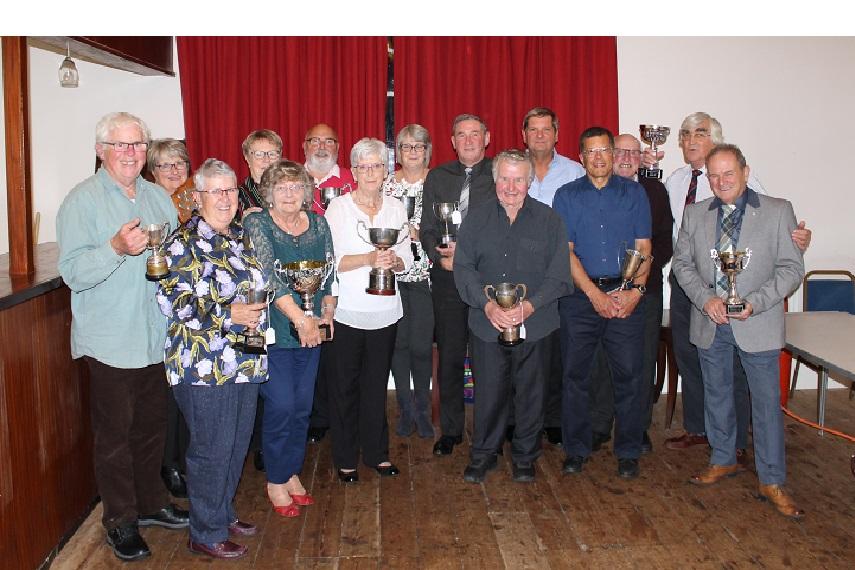 We Are Having an Open Day !!!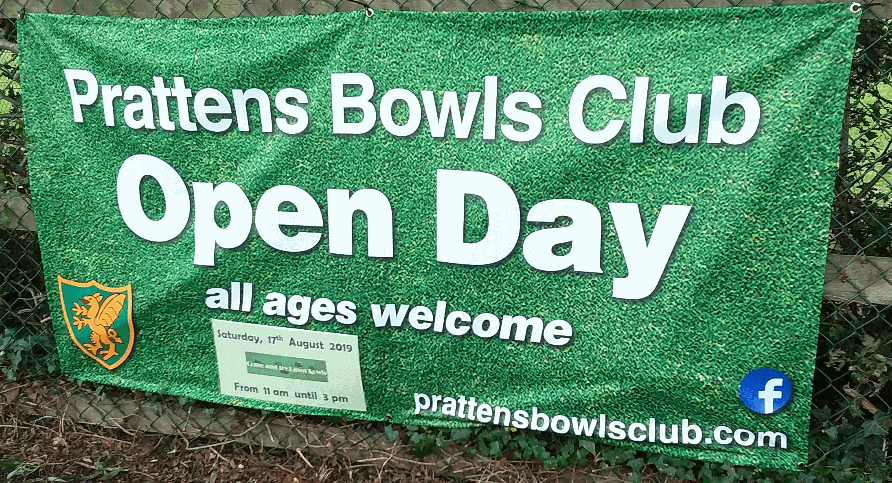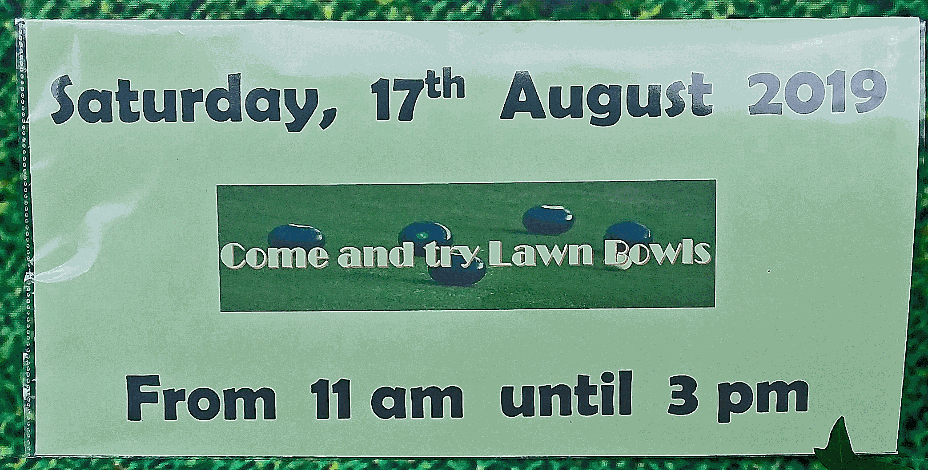 On the banner it says All Ages Welcome - we mean this. There have been World Champions in their 20's and 30's and at least one of our members played regularly in his teens. Do not think that this is just a game for old people. There are lots of bowlers whose great regret is that they did not discover the game earlier - but if you are now having to give up another sport and want something that you can play at a slightly older age this could be for you!!.
2019 Season under way
The 2019 season started on Saturday the 13th April with the opening of the green (with a large number of members being on the green to practice) followed on the Sunday by Presidents Day and on the Monday evening the usual Club practice session. All 3 events featured cold but dry weather so a good start to the season in that regard. Thanks to all the club members who came along and helped get the green and clubhouse ready for the new season.
2018 Trophy Holders - as presented at the Annual Dinner held at the Jolliffe, Kilmersdon . Somehow Richard Brimble managed to hide himself behind Colin Love (you can just see a bit of shoulders and ear sticking out).
Congratulations to you all.

Prattens Bowls Club Race Night - June 8th at 7.00 PM
Prattens Bowls Club will once again be having one of their popular race night events in the main social club. Tickets are £5 which covers entry and a ploughmans. Contact Lin or Richard Brimble on 01761 413832 to arrange a ticket. Tickets need to be booked in advance so that Lin can have the numbers for catering. If you love a little flutter or just want a good social evening please come along. (Non-members welcome)
Pre-Season Meeting 2018
Saturday 23rd March at 10:30 am Prattens Bowls Clubhouse was very crowded as the pre-season meeting was held. There were a few missing due to holidays and at least one person working (yes a few of our members still do) but we were pleased to welcome five new members to the fold (3 men and two ladies). Before the club business commenced there was a minutes silence to commemorate the recent deaths of two people associated with the club . This was immaculately observed. As well as the usual committee reports there were a few changes for the new season to announce. The success of our Ladies pair (Pauline and Chris) in winning the Somerset Ladies competition as well as the promotion of the Men's team in the Somerset League was also noted. This was followed by the usual rush to pay membership fees and sign up for games on the availability sheets as well as the chatter of members who had not seen each other since the end of last season. Please note that the green will be officially open on April 14th (see Fixtures list) and anyone else interested in joining will be warmly welcomed.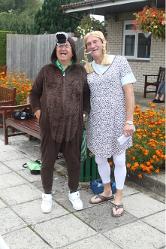 It was decided that Captains Day should have a theme of nightwear and, as you can see, everyone entered into the spirit of the day and had a great time.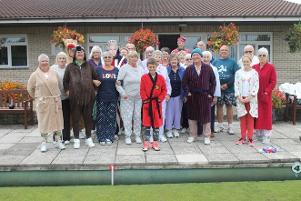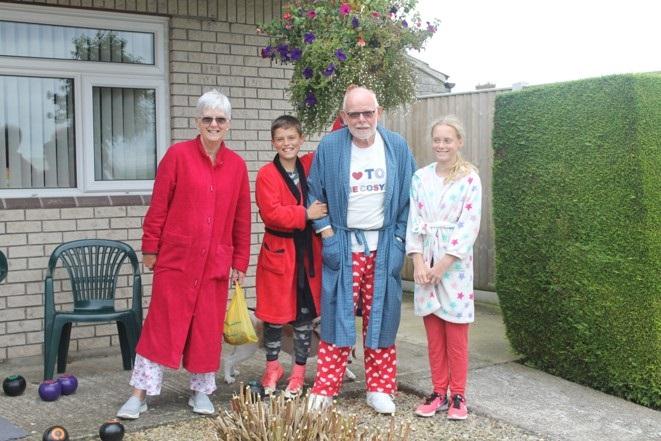 It was also the birthday of the Ladies Captain (Chris Love) .
Congratulations to Pauline & Chris
Prattens Bowls Club wishes to offer the warmest congratulations to two of our lady members, Pauline Dando and Chris Love, who have reached the final of the Somerset Ladies Pairs competition. This also qualifies them to play in the pairs at Leamington where they will be known as Somerset A.
Update -They enjoyed their visit to Leamington and the support from a number of Prattens members who attended but, unfortunately, they were unsuccessful on this occasion (see the picture below taken at Leamington).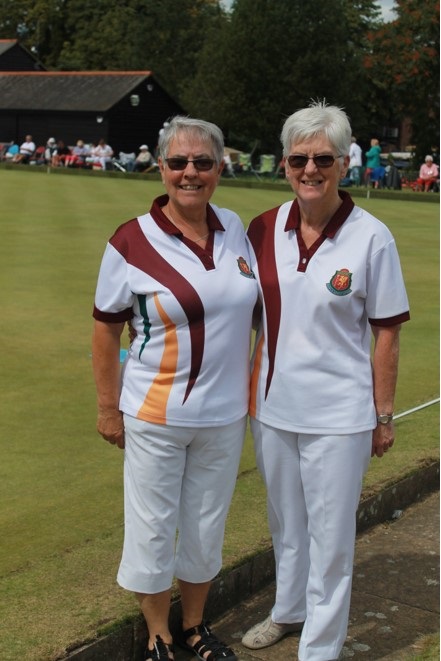 More Congratulations - Pauline & Chris
As previously reported, Pauline Dando and Chris Love reached the final of the Somerset Ladies Pairs and now (September 2017) the final has been played and they WON so they are now officially the Champions.
Copyright Prattens Bowls Club